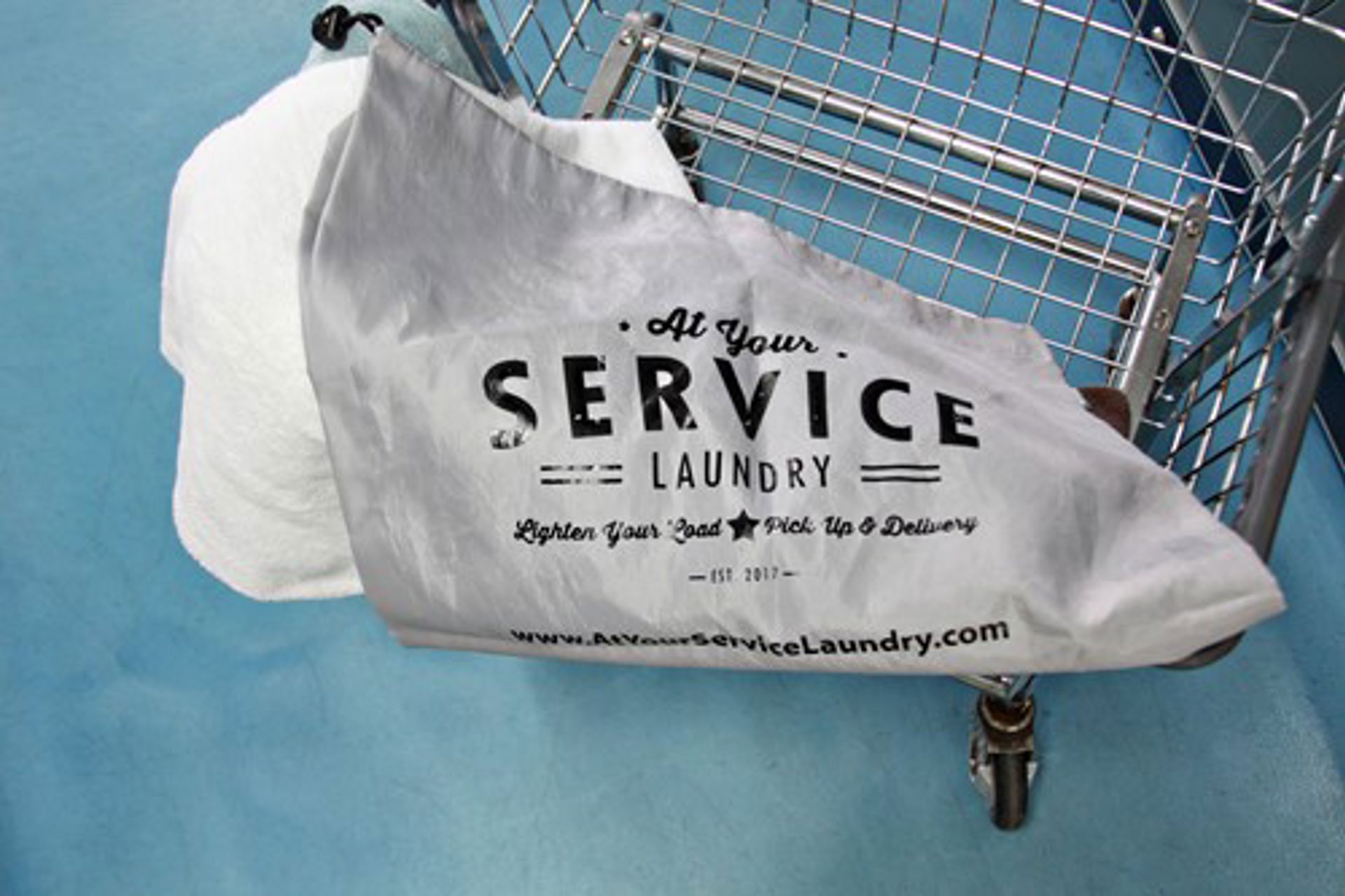 Frequently Asked Questions
There are so many different options and unique situations for each individual customer, but we have tried our best to put together some of the most common questions we are asked about our service. Questions pertain to our Pickup/Delivery Laundry Service, Drop-Off Laundry Service, Commercial Laundry Service and about our laundromat in general. If your question hasn't been answered, give us a call, we are happy to help!
Pickup/Delivery Laundry Service Questions:
Do I have to be home when you pick up or deliver my clothes?
No, but when scheduling the service, please provide clear instructions indicating where we can find your clothes and where to drop them off. Please ensure that you have a secure place to leave your clothes and not visible from the street. Some places people often choose are on the front porch, the back porch, in an unlocked garage, behind the gate, or with the apartment manager. If your building requires a code to enter, please inform us at the time of placing the order under driver's instructions. 
Do you separate whites from colors?
We separate whites, lights, and darks into different machines. We also pull-out delicate items and place them in a special laundry bag to further protect them.
How do I schedule an order online?
It's simple. Simply click on the Schedule a Pickup button. 
When I schedule an online order, how will I be billed?
When the order is completed, we bill your credit card and email you an invoice.
Is there any contract or long-term commitment?
None whatsoever. You can cancel or suspend your account at any time. If you have signed up for recurring, please let us know if you are going on vacation or want to suspend your account. We don't want to waste our driver's time and gas by having them go to your home for no reason!
Is there a minimum charge?
We have a minimum charge of $35.
What do I put my laundry in?
You can use a laundry bag or a large plastic trash bag. If you want to purchase a laundry bag from us, we will add the cost to your bill.  When you send your laundry in our nylon bag, we launder it when we launder your clothes.
I missed my pickup day. Is there a missed pickup fee?
We have put in place email and text reminders to help you remember. However, if you do forget to leave your laundry out, we reserve the right to charge a $15 missed laundry pickup fee to cover driver costs. 
Can I have contactless pickup?
Absolutely, we know that this is safer for you and for our drivers. Just tells us where we should pick up your laundry or deliver it and we will do so. We will text you that it is delivered so you can get it immediately. 
Can I put my pickups on hold while I'm on vacation or out of town?
If you are going to be away, just log into your account and place your account on "hold" until you return.
Can I share an account with my roommate?
You are allowed to do so, but your clothing will be mixed together. If you each have a separate account but choose to have your pickup and delivery days on the same day, at the same time, we will combine the two orders together to give you the minimum order of $35. 
How do I cancel my laundry service?
You must cancel before 6:00 a.m. in your account on the day the service is to be picked up. Or you can call or text At Your Service Laundry at 7:00 a.m. at (916) 259-3910 ex. 0. If you would like to cancel your weekly service, you can place your account on hold, and we will not return to do laundry pickup/delivery until we hear from you.
Can I get texts instead of emails?
Yes, you can log into your online account and change your preferences as often as you like. 
How do I change my billing?
To update your credit card, log into your account, under billing information select "Update Credit Card Information" and enter your new credit card information.
What if I have large bedding items? Are they charged by the pound?
Large items such as comforters, sleeping bags, rugs, throws, and pillows are charged by the piece. You can find the prices on our pricing page.
Please put any clothing that needs special attention in a small bag with a note on what you need done. We will do the best we can. If, however, you pretreat a stain as soon as it happens, the odds go up that it will be successful in removing the stain.
Can I make special requests on the way my laundry is done?
We do our best to accommodate every request. Let us know how you want your laundry done by putting it in your profile.  If we are unable to meet your request, we will do our best to get in touch with you to communicate what we cannot do.
What detergent, softener, dryer sheets and bleaches does At Your Service Laundry offer?
We use only premium brand products. Tide and Downy is used with all orders unless unscented products have been requested.
Are you closed on Federal Holidays?
We do not do laundry pickup/delivery on Thanksgiving,
Christmas, New Years, Easter, Memorial Day, 4th of July and Labor Day.
Do you offer Dry Cleaning, Alterations, and Ironing?
We do not provide Dry cleaning, ironing, or alterations services.
How does my laundry get weighed?
We weigh your clothing before and after we launder your clothing. The clothing is charged based on the "after weight". Sometimes, our customers send in clothes that are wet or damp. Wet clothes and towels weigh more than dry so we don't want to charge you for wet clothes.
What if I have other questions that you haven't answered about your laundry service?
Please call At Your Service Laundry at (916)259-3910 ex.0. We will be happy to talk to you or help walk you through placing your first order.
Drop-Off Laundry Service Questions:
When can I drop off my clothes?
You can drop off your clothes for us to wash and fold anytime between 7:00 a.m. - 6:00 p.m. We are always attended. Same day service must be in before noon. 
Our minimum for drop-off wash and fold is $18.
What products do you use for wash & fold?
We use only premium brand products. Tide and Downy is used with all orders unless unscented products have been requested.
What is the turnaround time for wash and fold?
Turnaround time is determined at drop-off. 
Commercial Laundry Service Questions:
Do I need to sign a contract?
No contract is required for commercial laundry customers. We will earn your business each time we launder your items.
Do we create an online account for our commercial business?
To create an account for your business, please contact us at 916-259-3910 ex.0 or email us at info@atyourservicelaundry.com and we will create the account for you.
General Laundromat Questions:
We are open 7 days a week 363 days a year from 7 am until 10 pm. We are only closed on Thanksgiving and Christmas. Last wash is at 9:00pm
Yes, we have change machines. We also have Pay Range which allows you to use an app to load money and start the machines.
How do I know which machine to use and how do I use it?
Our wash house is fully attended and always has at least one or more attendants to help you.